Published in: Los Angeles Times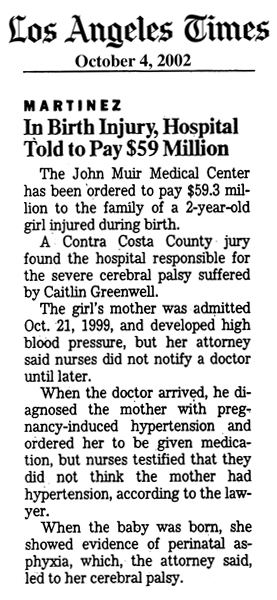 The John Muir Medical Center has been ordered to pay $59.3 million to the family of a 2- year-old girl injured during birth.
A Contra Costa County jury found the hospital responsible for the severe cerebral palsy suffered by Caitlin Greenwell.
The girl's mother was admitted Oct. 21, 1999, and developed high blood pressure, but her attorney said nurses did not notify a doctor until later.
When the doctor arrived, he diagnosed the mother with pregnancy-induced hypertension and ordered her to be given medication, but nurses testified that they did not think the mother had hypertension, according to the lawyer.
When the baby was born, she showed evidence of perinatal asphyxia, which, the attorney said, led to her cerebral palsy.