Published in: The Press-Enterprise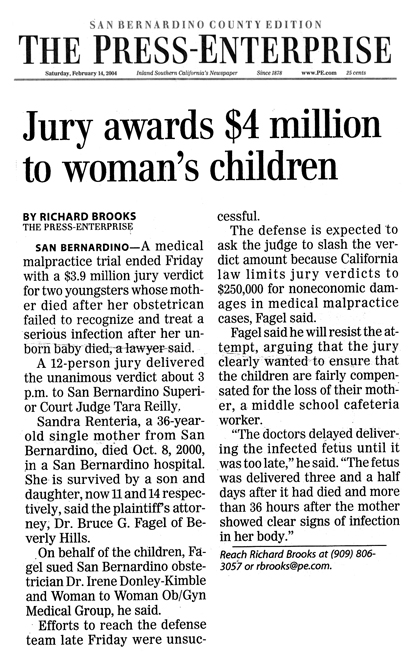 BY RICHARD BROOKS, THE PRESS-ENTERPRISE
BY RICHARD BROOKS San Bernardino — A medical malpractice trial ended Friday with a $3.9 million jury verdict for two youngsters whose mother died after her obstetrician failed to recognize and treat a serious infection after her unborn baby died, a lawyer said.
A 12-person jury delivered the unanimous verdict about 3 p.m. to San Bernardino Superior Court Judge Tara Reilly.
Sandra Renteria, a 36-year-old single mother from San Bernardino, died Oct. 8, 2000, in a San Bernardino hospital. She is survived by a son and daughter, now 11 and 14 respectively, said the plaintiff's attorney, Dr. Bruce G. Fagel of Beverly Hills.
On behalf of the children, Fagel sued San Bernardino obstetrician Dr. Irene Donley-Kimble and Woman to Woman OC/GYN Medical Group, he said.
Efforts to reach the defense team late Friday were unsuccessful
The defense is expected to ask the judge to slash the verdict amount because California law limits jury verdicts to $250,000 for noneconomic damages in medical malpractice cases, Fagel said.
Fagel said he will resist the attempt, arguing that the jury clearly wanted to ensure that the children are fairly compensated for the loss of their mother, a middle school cafeteria worker.
"The doctors delayed delivering the infected fetus until it was too late," he said. "The fetus was delivered three and a half days after it had died and more than 36 hours after the mother showed clear signs of infection in her body."
Reach Richard Brooks at (909) 806-3057 or rbrooks@pe.com.