Published in: The Orange County Register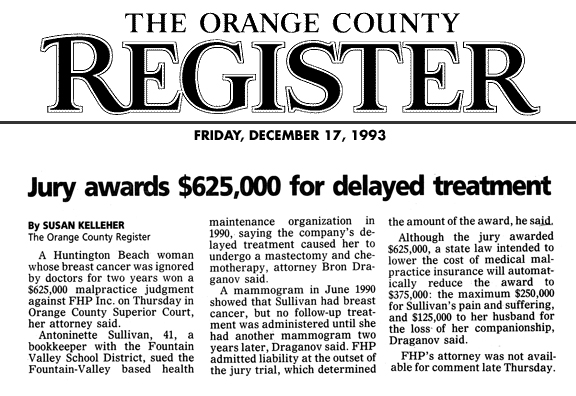 A Huntington Beach woman whose breast cancer was ignored by doctors for two years won a $625,000 malpractice judgment against FHP Inc. on Thursday in Orange County Superior Court, her attorney said.
Antoinette Sullivan, 41, a bookkeeper with the Fountain Valley School District, sued the Fountain-Valley based health maintenance organization in 1990, saying the company's delayed treatment caused her to undergo a mastectomy and chemotherapy, attorney Bron Draganov said.
A mammogram in June 1990 showed that Sullivan had breast cancer, but no follow-up treatment was administered until she had another mammogram two years later, Draganov said. FHP admitted liability at the outset of the jury trial, which determined the amount of the award, he said.
Although the jury awarded $625,000, a state law intended to lower the cost of medical malpractice insurance will automatically reduce the award to $375,000: the maximum $250,000 for Sullivan's pain and suffering, and $125,000 to her husband for the loss of her companionship, Draganov said.
FHP's attorney was not available for comment late Thursday.