Published in: Pasadena Star-News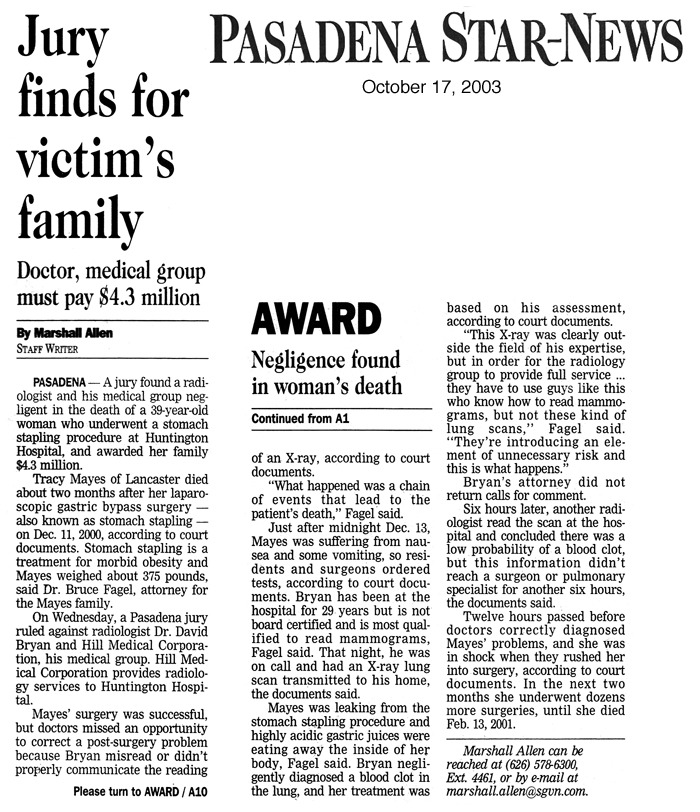 Doctor, medical group must pay $4.3 million.
By Marshall Allen – STAFF WRITER
PASADENA — A jury found a radiologist and his medical group negligent in the death of a 39-year-old woman who underwent a stomach stapling procedure at Huntington Hospital, and awarded her family $4.3 million.
Tracy Mayes of Lancaster died about two months after laparoscopic bypass surgery — also known as stomach stapling — on Dec. 11, 2000, according to court documents. Stomach stapling is a treatment for morbid obesity and Mayes weighed about 375 pounds, said Dr. Bruce Fagel, attorney for the Mayes family.
On Wednesday, a Pasadena jury ruled against radiologist Dr. David Bryan and Hill Medical Corporation, his medical group. Hill Medical Corporation provides radiology services to Huntington Hospital.
Mayes' surgery was successful, but doctors missed an opportunity to correct a post-surgery because Bryan misread surgery problem because or didn't properly communicate the reading of an X-ray, according to court documents.
Mayes was leaking from the stomach stapling procedure and highly acidic gastric juices were eating away the inside of her body, Fagel said. Bryan negligently diagnosed a blood clot in the lung, and her treatment was based on his assessment, according to court documents.
"This X-ray was clearly outside the field of his expertise, but in order for the radiology group to provide full service … they have to use guys like this who know how to read mammograms, but not these kinds of lung scans," Fagel said. "They're introducing an element of unnecessary risk and this is what happens."
Bryan's attorney did not return calls for comment.
Six hours later, another radiologist read the scan at the hospital and concluded that there was a low probability of a blood clot, but this information did not reach a surgeon or pulmonary specialist for another six hours, the documents said.
Twelve hours passed before doctors correctly diagnosed Mayes' problems, and she was in shock when they rushed her into surgery, according to court documents. In the next to months she underwent dozens more surgeries, until she died Feb. 13, 2001.
Marshall Allen can be reached at (626) 578-6300, Ext. 4461, or by email at marshall.allan@sgvn.com.