Published in: Los Angeles Daily Journal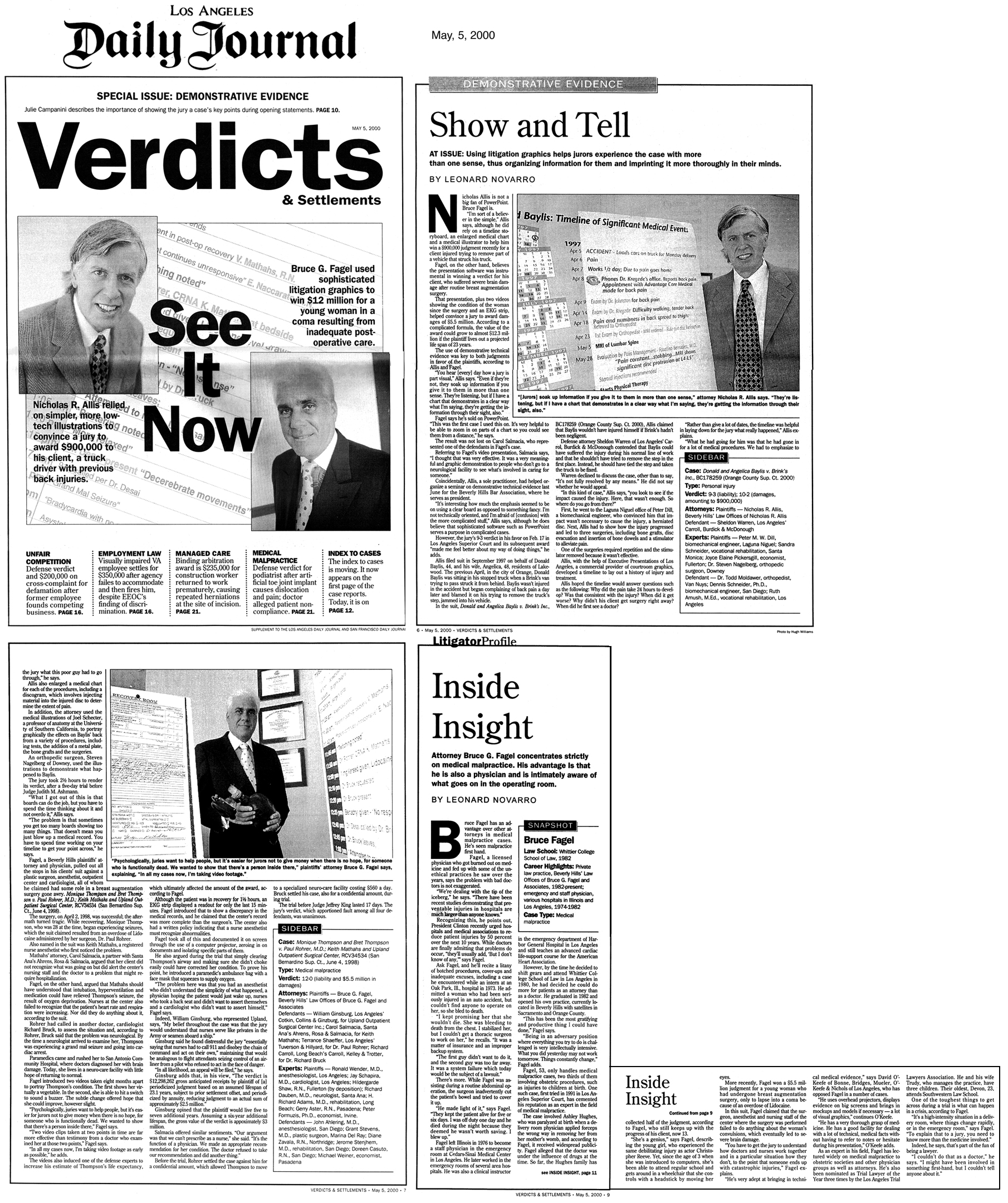 Julie Campanini describes the importance of showing the jury a case's key points during opening statements.
Verdicts & Settlements
$12 million for a young woman in a coma resulting from inadequate post-operative care.
illustrations to convince a jury to award $900,000 to his client, a truck driver with previous back injuries.
Show and Tell
AT ISSUE: Using litigation graphics helps jurors experience the case with more than one sense, thus organizing information for them and imprinting it more thoroughly in their minds.
BY LEONARD NOVARRO
"[Jurors] soak up information if you give it to them in more than once sense," attorney Nicholas R. Allis says. "They're listening, but if I have a chart that demonstrates in a clear way what I'm saying, they're getting the information through their sight, also."
Nicholas Allis is not a big fan of PowerPoint. Bruce Fagel is.
"I'm sort of a believer in the simple," Allis says, although he did rely on a timeline storyboard, an enlarged medical chart and a medical illustrator to help him win a $900,000 judgment recently for a client injured trying to remove part of a vehicle that struck his truck.
Fagel, on the other hand, believes the presentation software was instrumental in winning a verdict for his client, who suffered severe brain damage after routine breast augmentation surgery.
That presentation, plus two videos showing the condition of the woman since the surgery and an EKG strip, helped convince a jury to award damages of $5.5 million. According to a complicated formula, the value of the award could grow to almost $12.3 million if the plaintiff lives out a projected life span of 23 years.
The use of demonstrative technical evidence was key to both judgments in favor of the plaintiffs, according to Allis and Fagel.
"You hear [every] day how a jury is part visual," Allis says. "Even if they're not, they soak up information if you give it to them in more than one sense. They're listening, but if I have a chart that demonstrates in a clear way what I'm saying, they're getting the information through their sight, also."
Fagel says he's sold on PowerPoint. "This was the first case I used this on. It's very helpful to be able to zoom in on parts of a chart so you could see them from a distance," he says.
The result was not lost on Carol Salmacia, who represented one of the defendants in Fagel's case.
Referring to Fagel's video presentation, Salmacia says, "I thought that was very effective. It was a very meaningful and graphic demonstration to people who don't go to a neurological facility to see what's involved in caring for someone."
Coincidentally, Allis, a sole practitioner, had helped organize a seminar on demonstrative technical evidence last June for the Beverly Hills Bar Association, where he serves as president.
"It's interesting how much the emphasis seemed to be on using a clear board as opposed to something fancy. I'm not technically oriented, and I'm afraid of [confusion] with the more complicated stuff," Allis says, although he does believe that sophisticated software such as PowerPoint serves a purpose in complicated cases.
However, the jury's 9-3 verdict in his favor on Feb. 17 in Los Angeles Superior Court and its subsequent award "made me feel better about my way of doing things," he adds.
Allis filed suit in September 1997 on behalf of Donald Baylis, 44, and his wife, Angelica, 48, residents of Lakewood. The previous April, in the city of Orange, Donald Baylis was sitting in his stopped truck when a Brink's van trying to pass struck it from behind. Baylis wasn't injured in the accident but began complaining of back pain a day later and blamed it on his trying to remove the truck's step, jammed into his vehicle.
In the suit, Donald and Angelica Baylis v. Brink's Inc., BC178259 (Orange County Sup. Ct. 2000), Allis claimed that Baylis wouldn't have injured himself if Brink's hadn't been negligent.
Defense attorney Sheldon Warren of Los Angeles' Carroll, Burdick & McDonough contended that Baylis could have suffered the injury during his normal line of work and that he shouldn't have tried to remove the step in the first place. Instead, he should have tied the step and taken the truck to be fixed.
Warren declined to discuss the case, other than to say, "It's not fully resolved by any means." He did not say whether he would appeal.
"In this kind of case," Allis says, "you look to see if the impact caused the injury. Here, that wasn't enough. So where do you go from there?"
First, he went to the Laguna Niguel office of Peter Dill, a biochemical engineer, who convinced him that impact wasn't necessary to cause the injury, a herniated disc. Next, Allis had to show how the injury progressed and led to three surgeries, including bone grafts, disc evacuation and insertion of bone dowels and a stimulator to alleviate pain.
One of the surgeries required repetition and the stimulator removed because it wasn't effective.
Allis, with the help of Executive Presentations of Los Angeles, a commercial provider of courtroom graphics, developed a timeline to lay out a history of injury and treatment.
Allis hoped the timeline would answer questions such as the following: Why did the pain take 24 hours to develop? Was that consistent with the injury? When did it get worse? Why didn't his client get surgery right away? When did he first see a doctor?